---
Information on how to use inhalers and more supporting resources for pharmacies
---
Good inhaler technique is important in order to ensure the drug is delivered correctly and most of the medicines reaches the lungs rather than the back of the throat. Good technique is associated with less emergency department attendances. It is important to encourage children and young people to use a spacer device and healthcare professionals need to ensure the correct type is chosen.
How do I help a child use their inhaler?
1. Check the spacer fits the inhaler
2. Put one puff of the inhaler into the spacer and breathe in deeply through the mouthpiece
3. Ask the child to hold their breath for 10 seconds (or for as long as is comfortable) then breathe out slowly
4. It is best to take at least two deeply held breaths for each puff of the inhaler
5. Children who find it difficult to take deep breaths can breathe in and out of the mouthpiece several times
6. Repeat the steps above for each dose/puff needed
7. Wash the spacer once a month with washing up liquid – leave it to drip-dry
8. Spacers should be replaced yearly
Tools to help use inhalers
London's CYP asthma pharmacy group, a subgroup of the London Asthma Leadership and Implementation Group, have developed two leaflets on inhalers and the green agenda. Launched in November 2022, these detail what young asthma patients and their families can do to protect the environment and how professionals can inform themselves and advise their patients in relation to the environmental impact of inhalers:
The UK Inhaler Group (UKIG) has developed a set of standards and competencies for healthcare practitioners to enable them to work with patients to optimise technique and maximise the benefit of the medication.
City and Hackney CCG has developed downloadable inhaler flashcards to ensure different asthma inhalers are used effectively. Thanks to Hetal Dhruve, Specialist Respiratory Pharmacist, for developing this resource, which includes detailed instruction on tidal breathing with and without a mask for children.
The NHS Croydon team has developed a number of tools which includes:

A referral pathway to CCG pharmacy teams for patients on inhalers
Patients and families can find it difficult to tell if their inhaler is empty if it does not have a dose counter. This leaflet from Beat asthma provides some helpful tips.
Inhaler technique assessment tool, provided courtesy of Keith Thompson

The Southwest Respiratory Network asthma education programme's 'We can use Inhalers Better' event education slides and inhaler technique resources
The Hands-on Guide to Practical Paediatrics team has put together instructional videos on how to use different inhalers:
Croydon Hospital at Home (CHAH) Inhaler Chart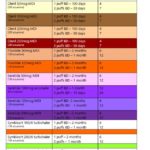 Developed in January 2021, CHAH asthma has developed this downloadable inhaler chart showing how long a preventer inhaler should last according to the prescribed dose.
Supply of Salbutamol inhalers to schools – pharmacy guide
New legislation allows inhalers to be purchased for emergency use in schools, see the downloadable guide for further details.
Barking Havering and Redbridge have produced guidance to support the stepwise review of combination inhaled corticosteroid therapy for adults (≥18yrs) in asthma.