Data Controller Console
The Data Controller Console- DCC
The Console makes it easy and efficient for organisations to store, update and track the status of Information sharing and available to use by health and care organisation​s in London.
Why use the Data Controller Console?
The DCC increases visibility of agreements between organisations that share information, it also gives real time access to Information Sharing Agreements (ISAs) and control over any changes made to the ISAs.
The Data Controller Console can also help to support organisations with their compliance of the General Data Protection Regulation (GDPR) that came into force on the 25th May 2018 by:
Increasing visibility and transparency of agreements and processes between organisations sharing information
It allows organisations to track their information sharing arrangements and relationships
Tracks, reports and monitors information sharing agreements
Monitor compliance of sharing with regulations and therefore be confident to transfer on the basis of an adequate decision
Standardise templates such as Data Privacy Impact Assessments (DPIAs) and information sharing agreements
The Console also supports efficient Information & Data Sharing (ISA/DSA) between organisations by:
Decreasing paper in the system
Streamline data sharing processes
Creates a standard for sharing: 'Clubs', data sharing agreements and Data Privacy Impact Assessments
Enables organisations to sign up to agreements on mass
Increases transparency between partner organisations
Reduces duplication in the system by encouraging and supporting transparency and collaboration between organisations
Further information available on the DCC and GDPR Requirements  available here
Key Features of the Data Controller Console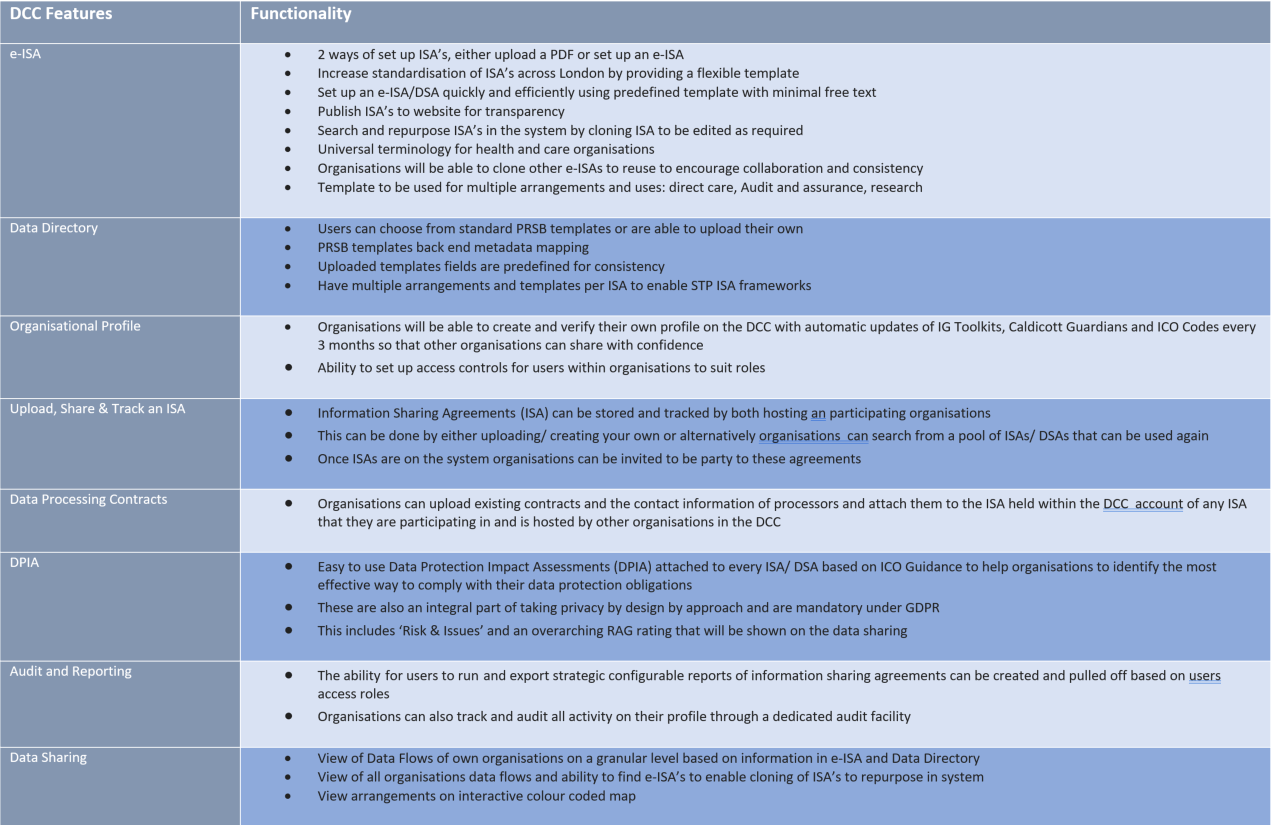 Who are users of the Data Controller Console?
The main users of the console are information governance managers/leads (and their teams) in health and social care organisations such as hospitals, care providers, practice managers in GP practices and local authorities. Adults and Children's social care share vital information with NHS organisations to provide care for citizens. The DCC has been aligned to meet the needs of these organisation so all can use with confidence.
How do i Register your organisation on the DCC?
The Caldicott guardian or information governance lead of your organisation can be invited by another organisation via their email address or you can click on the link
below to see the guide on how to register on the DCC ;
https://www.transformationpartners.nhs.uk/wp-content/uploads/2017/12/How-to-Register-for-the-DCC-QRG.pdf
Once your organisation has joined, the authorised contact person/s will receive their login details with temporary password which must be changed on first logon.
An invitation to join the DCC will be sent to the Caldicott Guardians/IG managers of your organisations via the "no-reply@datacontroller.london". This email will have instructions of how to set you organisation up on the console.
Training to Suit You.
The DCC training team offers a range of free sessions tailored to your needs. These sessions have been designed to be flexible enough for users to book onto wherever they as they are delivered via WebEx and can be accessed remotely.
We also run free drop in sessions and workshops that focus on a particular module or feature of the console which gives the users the flexibility to decide what session they would like to join.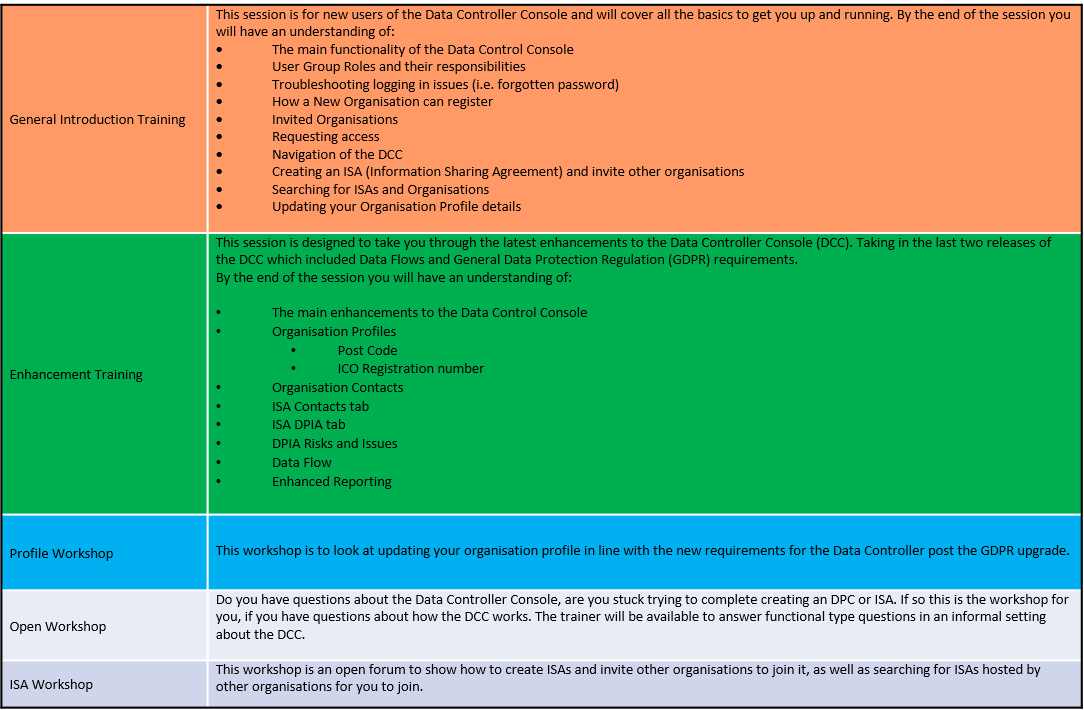 To Join any of our workshops or training sessions, please contact us via "England.dccsupport@nhs.net " with the title of the course you are interested in and we will let you know the dates and times, you are able to book onto the one that suits you. We also publish a calendar of sessions in the monthly newsletter which is distributed to all registered users.
In the meantime if you would like to learn more about the Data Controller Console, please follow the link to our   training materials or download the DCC Flyer for further information.
Coming Up…….Future Enhancements to the Data Controller Console.
The central DCC team will continue to enhance the console to make it a more efficient and robust tool.
Public Facing Website: make ISA's available on a central NHS website searchable by the public, automatically updated from the information in the DCC