From evidence to implementation, data-driven approach to improving quality standards in asthma
24 September 2021
By Finlay Royle MPharm MSc MRPharmS, Assistant Director, Medicines and Long Term Conditions (Lambeth), NHS South East London
The National Review of Asthma Deaths (NRAD)1 provided a sobering account of the state of how the NHS as a system has big challenges in how we improve the quality of care for people living with asthma.
In Lambeth, the medicines and long term conditions commissioning team worked closely with our respiratory teams, GPs across primary, secondary and community care and other stakeholders to address the variation in quality of asthma care as measured by various standards.
Taking a whole system, quality improvement approach is at the heart of how we tackle variation in medicines and prescribing, disease review and optimisation, referrals and admissions. To do this, we need quality data relating to actual care provided and 'care process metrics'.
We use data to understand our baseline performance and variation between providers, inform our local quality improvement schemes and support pathway redesign. However, data often comes with big warning labels attached! Whilst data can be useful, it must be taken in context, and so looking at data trends, underreporting or recording of data, and wider issues (eg. seasonal variation) is important when interpreting data.
Locally in Lambeth, I incorporated a methodology devised by Dr Noel Baxter (and currently advocated by the Primary Care Respiratory Society2) into our local improvement plans for adult asthma. This outlined 9 key areas of focus, based on NRAD:
Over-reliance on rescue medication (salbutamol)
Over-use of high-strength inhaled corticosteroids
Under-utilisation of inhaled corticosteroids
Uptake of personalised asthma action plans
Completion of annual reviews
Under-utilisation of spacer devices
Smoking brief interventions for smokers
Carbon monoxide monitoring in smokers
Inhaler technique assessment
These data were chosen as they reflected the key indicators that influence outcomes in asthma, were easy to code within the GP records and available at population level to commissioners and providers to track achievement / improvement.
Data doesn't necessarily reflect the quality of the care provided through that intervention, but by focussing minds on key processes within good care, the intention was to drive up the associated quality.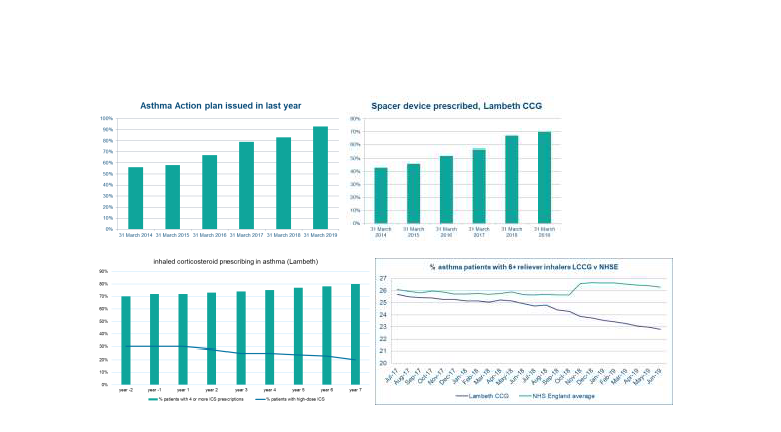 Our results were positive, showing widespread improvement in all the care metrics. Whilst we did also see a parallel reduction in eg. acute episodes of care, a causative link could not be established as there were too many other variables impacting on overall outcomes. This would require a properly designed study, but perhaps the results suggest that an understanding and coding of data can be used to develop a whole system approach to quality improvement.
The wider benefits of this approach included reaching consensus amongst our providers on a quality improvement approach that helps us focus on evidence-based metrics that are of the highest priority to patients and the healthcare system overall.
Moving forward, I'm working with the South East London Children and Young People's Asthma Network to look at how we can tailor this approach specifically for younger people, incorporate the London Asthma Standards alongside NRAD and ensure an appropriate approach is taken to quality improvement.
Future work will also include a focus on inequalities. How do we ensure that we are focussing efforts on those with the greatest needs and barriers to improving their health? How do we better involve people living with asthma (including patients, families, schools) in our planning? We need to work with others (such as public health and local authorities) to create a broader dataset that looks at wider determinants such as air pollution, housing and other factors that can affect outcomes in asthma, and ensure we review our existing services to meet those challenges and needs.
References
Royal College of Physicians. Why asthma still kills: the National Review of Asthma Deaths (NRAD) Confidential Enquiry report. London: RCP, 2014
Baxter, N. Nine processes to achieving Asthma Right Care, Primary Care Respiratory Society, 2020 via: https://www.pcrs-uk.org/resource/nine-processes-achieve-asthma-right-care
See more from #AskAboutAsthma 2021