A developing series of NHS-led mental wellbeing webinars has been launched to help those who are living and working in London cope with the impact of COVID-19, both for the general public and for health and care workers.
The Coping Well During Covid webinar series is supporting anyone who is feeling anxious or worried about coronavirus and how it is impacting them, their loved ones, their work and their future. Taking place on Tuesdays at 4pm, each 60-minute webinar is NHS-led and current topics include managing wellbeing, anxiety, low mood and sleeping difficulties.
Each webinar offers participants the chance to explore ideas and tools to support mental health and wellbeing in a clinically led and interactive way, when joining live. Further sessions are also being explored, such as focusing on money and mental health and bereavement.
The Keeping Well for Health and Care Workers webinar series is designed to help manage the emotional health and wellbeing of those working in health and care services, whether at the front line or in supporting services. Taking place on Thursdays at 4pm, each session has a focus on sustaining staff wellbeing and will explore topics such as preventing burnout, coping with stress and sleeping better.
Webinars are recorded and be available to view back as a permanent resource. The full schedule and registration for webinars across both series is available from the Thrive LDN website.
Cognitive behavioural therapist, Emily Gardner, who is leading the webinars, said: "Many people who live and work in London are feeling anxious about coronavirus and how it has impacted them, their loved ones, their work and their future. It's important to know that it is normal and okay to feel upset, anxious or confused at times.
"Across both series, during each webinar we explore evidence-based ideas and tools to support emotional wellbeing and improve mood. Those who join the live sessions are encouraged to ask questions and input comments into the chat function. We will take some time at different points of the webinar to respond to questions and comments so that those joining get the most from each session."
Dr Ruth Dennis, clinical psychologist, West London NHS Trust, who is supporting the development of the webinars said: "The Coping Well During Covid and Keeping Well for Health and Care Workers webinars are designed to be educational and supportive, and not a substitute for a mental health or psychological intervention for those who may need more urgent support.
"Alongside the webinar series, if you are still concerned about your mental health and do not require urgent support then contacting your GP is a good place to start. You can also refer yourself for free, non-urgent NHS psychological therapy services, known as Improving Access to Psychological Therapies services, which provide evidence-based treatments for depression and anxiety."
Martin Machray, Joint Chief Nurse, NHS England & Improvement (London region), said: "These are incredibly challenging times, and some people will find it harder than others because of their health, where they live, their job, or the impact COVID-19 has had on their financial situation. Remember, whatever you are going through, there is support available and you are not alone.
"It has never been more important for each of us to think and talk more about mental health and wellbeing, and to seek help when it is needed.
"The webinars are an important addition to the range of resources and services available to support both the mental health and wellbeing of Londoners and our NHS and care workers."
The Coping Well During Covid and Keeping Well for Health and Care Workers webinar series are developed and delivered by Healthy London Partnership's London Digital IAPT Programme. Webinars will be recorded and available to view back on the dedicated resource page on Thrive LDN's website.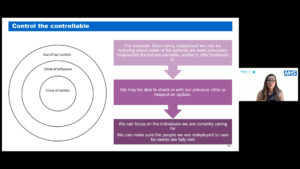 Sign up to our newsletter.