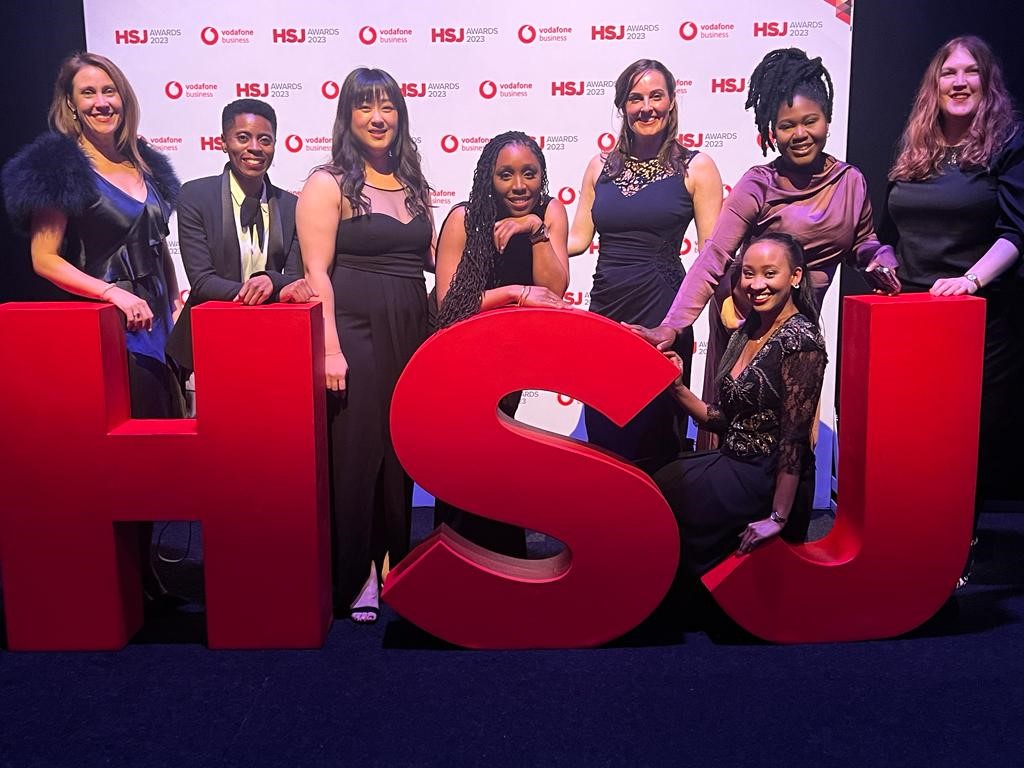 Transformation Partners in Health and Care attended the 2023 HSJ Awards ceremony last night, along with the NHS England London Maternity team, having been shortlisted in two categories for their work to support the diverse maternity workforce in London to thrive and progress.
The work of the CapitalMidwife programme, which is run by TPHC on behalf of the London Regional Maternity Team, to develop an Anti-Racism Framework and Fellowship was shortlisted for both the 'Workforce Initiative of the Year' and the 'NHS Race Equality Award' categories at the HSJ Awards.
The TPHC team was up against strong competition from other health organisations working to improve race equality and to drive innovation in workforce development, including the Birmingham and Solihull Integrated Care Partnership and King's College Hospital and King's College London who ultimately took home the accolades.
The CapitalMidwife programme
The CapitalMidwife programme formed a diverse advisory group of maternity leaders to develop the two products as a response to the 2022 publication of the Turning the Tide report, which highlighted wide-ranging discrimination faced by ethnic minority maternity staff during the pandemic.
The Fellowship aims to help ethnic minority band 6 and 7 midwives to move into leadership roles. The six-month programme delivered leadership and quality improvement training to 31 midwives from ethnic minority groups from London trusts. Fellows were also supported to develop interview skills and to build a network of peers and mentors to support them throughout their career.
The results have been outstanding: 43% (13 out of 31) of Fellows have moved into more senior roles, while 100% of Fellows reported being able to apply their new learnings in the workplace. A second cohort was funded based on the positive feedback received, and discussions are also being held with the NHS National Maternity Team about expanding the Fellowship beyond London.
The Anti-Racism Framework gives trusts a roadmap for developing an anti-racist culture. It outlines nine key anti-racist initiatives, and trusts are given awards for achieving different stages of implementation. Of the 18 London trusts with maternity services, two have achieved an award for implementation, four more trusts are known to be implementing​, and 12 have engaged with the framework in some form. 100% of people surveyed highlighted positive impacts in their workplace. The Framework is now being adapted and rolled out for the London nursing workforce.
Nina Khazaezadeh, NHS England's Interim Regional Chief Midwife for London, said: "I'm incredibly proud of the work we're doing in London to tackle systemic racism. This is essential for staff to feel valued and respected, and for their wellbeing. By addressing racism in the workforce we can also start to tackle unacceptable disparities: maternal death rates are four times higher for Black women and almost two times higher for Asian women compared with White women. The Fellowship and Anti-Racism Framework are making a real, positive difference."
Susan Hunter, Managing Director at TPHC said: "We are delighted to have been shortlisted for this award and proud to stand shoulder to shoulder with some amazing anti-racist initiatives across the NHS – and that can only be a good thing for staff and patients. I am so proud of the whole team, and the outcomes already achieved clearly show that things can change. We will redouble our efforts and will be extending this vital work into London's nursing community in 2024/25."