We are pleased to announce that the #RightInhalerImage campaign, launched by HLP's Children and Young People's Asthma Programme last year, is being taken forward by the International Primary Care Respiratory Group (IPCRG).
The IPCRG has launched a free gallery of images that can be downloaded for use in publications, presentations and other usage. The gallery can be viewed at the ICRG website.
 About the #RightInhalerImage campaign
The campaign launched in May 2021 to improve the quality of media portrayal of inhalers and help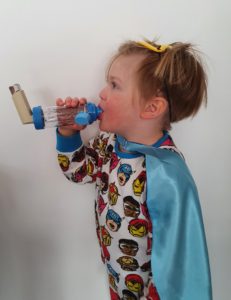 inform patients, health care professionals and the public about the correct use of inhalers.
Over the past year the campaign gained huge support and mentions across publications, as well as being awarded the Most patient-centred poster award in September 2021 for our Kickstarting the #RightinhalerImage campaign poster.
Looking ahead, colleagues are asked to remain vigilant on social media and continue calling out poor images where seen, as well as using approved images from the ICRG gallery in your own resources. The original hashtag #RightInhalerImage can still be used on social media, as well as #SpotTheSpacer and #AsthmaRightImage which the ICRG has introduced.
The CYP Asthma team, now part of the NHS (London region) Children and Young People's Transformation Programme, will continue to work with the ICRG, offering editorial support as needed and continuing to raise awareness of the campaign across networks.
The #RightInhalerImage campaign webpage containing information and all of our own resources (images, blogs, guides) continues to be available on Healthy London Partnership's website here.
Find out more about your children and young people's asthma work here.