NHS 24/7 urgent mental health support lines
Life can be really difficult and you might sometimes feel completely overwhelmed. This kind of crisis situation can be triggered by many things, including bereavement, stress and social isolation, and may require an immediate response.
Remember, a mental health emergency should be taken as seriously as a physical one. You will not be wasting anyone's time.
Accessing immediate mental health support
If you feel extremely distressed and worried that you might not be able to keep yourself safe, then you should call your local NHS mental health helplines which is open 24 hours a day, seven days a week.
Every London borough (and other places around England) has a mental health helpline which is run by trained mental health advisors and clinicians. You can find your local London number at the bottom of this page, or on the NHS's urgent mental health helpline webpage for numbers outside of London.
If you can, also let a parent, carer, friend, teacher or someone else you trust know how you're feeling so they can help support you.
If you're in immediate danger and it's a medical emergency, call 999 straight away.
If you're already receiving support from mental health professionals, you should have your own Safety and Coping Plan (sometimes called a Safety Plan or a Care Plan). When you're struggling, try to follow this plan one step at a time until you are safe and let your mental health professional know what's going on.
Please don't suffer alone. You can find lots of information about the NHS and other support organisations below – they are all here to help you.
Click for urgent mental health helplines in:
Supporting parents, teachers and professionals
All support lines are operated by mental health professionals who will help make an assessment to help decide on the best course of care.
For those caring for someone, whether a parent, teacher, first responder, call your local NHS urgent mental health support line in the first instance for immediate support and advice.
Teachers can download this short assembly plan, which share information about mental health and wellbeing, aimed at young people in key stage 3-5.
North Central London
For 24/7 support in the following boroughs call: 0800 151 0023
Barnet
Camden
Enfield
Haringey
Islington
---
North East London
For 24/7 support in the following boroughs call:
0800 073 0006 for:
0800 995 1000 for:
Barking & Dagenham
Havering
Redbridge
Waltham Forest
Or 0800 073 0003 for:
---
North West London
For 24/7 support in the following boroughs call:
0800 023 4650 for:
Brent
Hillingdon
Harrow
Kensington & Chelsea
Westminster
Or 0800 328 4444 for:
Ealing
Hounslow
Hammersmith & Fulham
---
South East London
For 24/7 support in the following boroughs call:
0800 731 2864 for:
Lambeth
Lewisham
Southwark
0800 330 8590 for:
---
South West London
For 24/7 support in the following boroughs call:
0800 028 8000 for:
Croydon
Kingston
Merton
Richmond
Sutton
Wandsworth
Other support available
If you need help urgently but you're not at risk of harm or serious illness, visit 111.nhs.uk or call 111.
If it's an emergency and you need immediate medical attention, call or text 999 for an ambulance. You can also go to your local Accident & Emergency department (find your nearest A&E here).
If you're in danger because of another person, call or text 999 and ask for the police.
If you'd like to talk to someone in confidence about how you're feeling, various charities provide free advice and support, including:
Good Thinking is an online service that helps Londoners look after their mental health and wellbeing in a way that works for them.
On Good Thinking you'll find lots of helpful digital resources, including free NHS-approved apps and top tips to help you get through the tough times.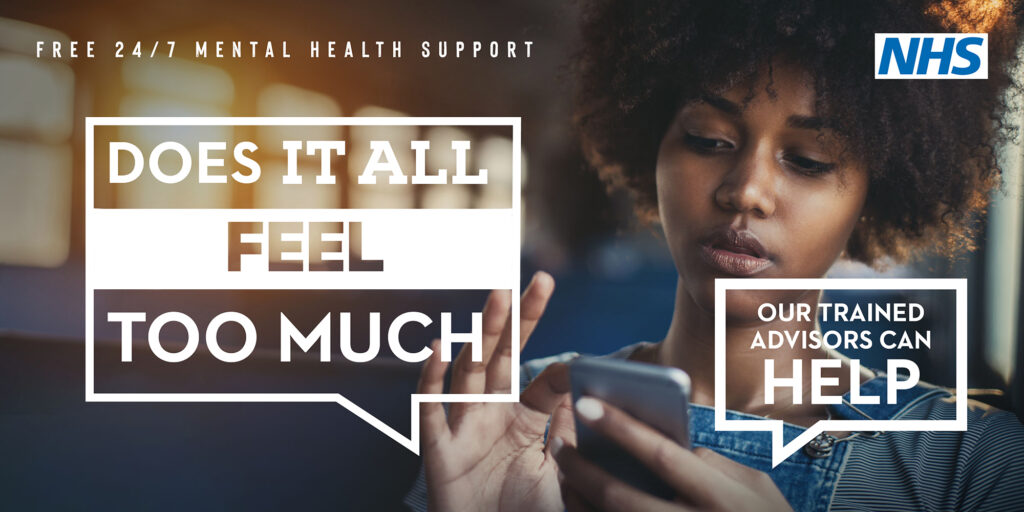 You can also share our digital postcard containing local NHS helpline numbers in London and other resources for urgent mental health support:

GIF format here. 
Printable PDF pages

Download our communications toolkit (updated November 2022) containing messaging, social media assets and other resources to help raise awareness among young people and their families of the urgent support lines. Also downloadable in MS Word format.
Find tips and support on looking after your mental health from the Open Your Mind campaign